Gaziya Al Shams
Fadi Al Shaqab x Grace J
Purebred Arabian Filly
Dob: 13.04.2019
Color: bay
Breeder: EMAJ Stud, E.M.CH. Schlaepfer

Gaziya Al Shams, first foal out of our star Grace J, sired by Fadi Al Shaqab. She has eyes as big and sparkling as the sun, an elegant attitude, flying movements and a wonderful character. This young princess has wrapped us around her hoofs and it seems like she casts a spell over everybody. She is more than we ever dreamed of.
Fadi Al Shaqab
Besson Carol
Parys El Jamaal
Ali Jamaal
FF Pavielle
Classic Krystall
Simeon Shor
Frangelica
Abha Myra
Marwan Al Shaqab
Gazal Al Shaqab
Little Liza Fame
ZT Ludjkalba
Ludjin El Jamaal
ZT Shakalba
Grace J
Emerald J
QR Marc
Marwan Al Shaqab
Swete Dreams
Emandoria
Gazal Al Shaqab
Emanda
Gomera J
Ekstern
Monogramm
Ernestyna
Georgia
Eukaliptus
Galia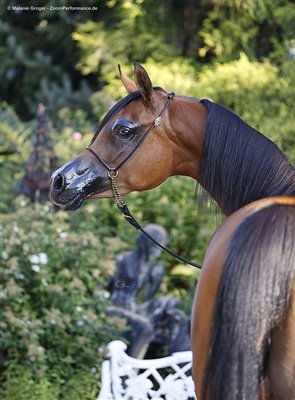 Fotos: © M.Groger