Review of the year
2016
23.10.2016
Words would not be enough to describe the weekend from 22 to 25 September. Our three show stars Nawari El Noor, Sayyidah Bint Al Shareefah and Grace J traveled to Aachen for the All Nations Cup and made it unforgettable for us. Nawari was great for her first indoor show. We were very happy with her presentation! Sayyidah also did well, scoring a top ten ranking in an incredibly tough competition. Especially memorable will be Grace J. This young lady caused a stir. Strong, confident and arrogant, she presented herself fantastic. This was rewarded with an incredible second place. What a show!
Photo: © Melanie Groger
27.08.2016
Al Shareefah (CH El Brillo x Scarlett), a dream mare we all love and which decisively influenced our stud. We are incredibly proud! Because Al Shareefah is the first self bred mare who received the elite title of the Swiss breeders association. With her own performances, her great offspring and their performance in halter shows, Al Shareefah fulfilled all requirements to be named "Elite Mare". With her family at her side, she represents the most important line of our stud farm.
Photo: © Joelle Müller
27.08.2016
The golden fillies! Grace J, what more can you say than "Wow"! This great young mare is unstoppable. At the national championship in Switzerland, she is the undisputed junior gold champion. Equally great was the performance of Sitara Bint Hariry with her dam Al Shareefah. This young horse lady performed well and scored a fantastic 7.9 points. She was also named "Best of all Arabian foals bred in Switzerland in 2016". For the second time in a row, we got this title for an offspring from our stud. We are incredibly proud!
Photo: © Joelle Müller
24.07.2016
We are very pleased to welcome yet another little prince! Nabucco El Perseus (QR Marc x Norah El Perseus), a strong, long-legged colt, was born healthy in the early evening. The last in the league and we are incredibly happy to have four great horse children in the stable now. Nabucco enjoys the pasture on the first day of his life to the fullest.
Photo: © Melanie Groger
19.06.2016
On Sunday, June 19, Grace J (Emerald J x Gomera J) did it again at the international C-Show in Rosières aux Salines. Strongly moving and with an unbelievable presence and charisma, she not only inspired the judges but the entire audience. The more Grace J was cheered, the more she seemed to enjoy it. The hall literally raved during her presentation and our princess took first place in the class. In the championship at the end of the day, her fans were truly waiting for her ... with another great show, Grace won the Junior Silver Champion title!
Photo: © Melanie Groger
13.06.2016
Wow, another princess! Not long ago, our Shamaliah was still such a long-legged foal, and now she herself is the proud mum of a pretty little horse lady. We can hardly believe our luck, three fillies in a row and the third is also born healthy and cheerful. What a gift! Shasmin by QR Marc delights us with her awake nature and witty character.
29.05.2016
On May 28th and 29th we entered the international C-Show in Manerbio, Italy, with our three young mares Nawari El Noor, Sayyidah Bint Al Shareefah and Grace J. For the two yearling fillies Nawari and Sayyidah, it was their first show ever and both took home a title. The surprise was huge when Nawari El Noor scored a class win on the first day. Sayyidah, starting in the following class finished with a sensational second place. Only one class later, Grace J took first place with the highest score of the junior females with an amazing show. The surprise could not have been bigger, all three horses in the championship! The following day, the championships were distributed. Our three horses presented themselves once again sensational. Nawari El Noor has been awarded Bronze Champion and Sayyidah Bint Al Shareefah Silver Champion. Grace J won the Junior Silver Champion title and "Best Horse from Abroad" award. What a great weekend!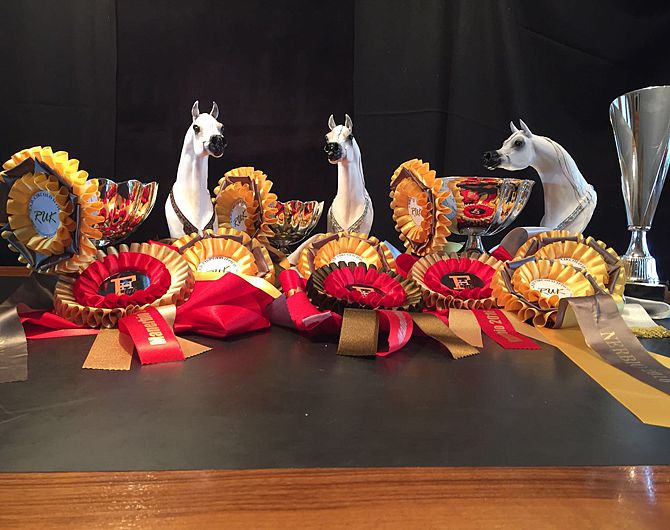 21.05.2016
Bye, bye Shakeel (Stival x Al Shareefah)! One last walk with our golden boy. He leaves behind a huge hole. This great gelding has brought us a lot of joy and secured a place in our hearts. We will all miss him, but we are happy that he has found a great new person who will surely love him at least as much as we love him. Have fun and everything good on your common path!
03.05.2016
Wow! Probably the first foal of Hariry Al Shaqab in Europe. She is a gorgeous lady! We are very excited about our new addition Sitara Bint Hariry.
Photo: © Melanie Groger
30.04.2016
This year's first foal is here! We welcome a beautiful and sweet daughter of Gazal Al Shaqab out of our MZ-Djlshada: Dayeemah Sweet Bint Gazal
03.03.2016
Siraj al Lail has found her soulmate. We wish the happy owner all the best for the future together with this great and beautiful mare.
Photo: © Melanie Groger
01.01.2016
We wish everybody a beautiful last day in 2015 and 365 more great days in 2016.