Review of the year
2018
23.12.2018
We congratulate the new happy owner of Muhajara Bint Al Hadiyah (Al Hadiyah AA x Muhadschirina). With her dream eyes she has looked directly into your heart and took it! Although we give her away with a crying eye, we are happy to have found such a great person for her and know that her journey into a great future is about to begin. We wish you all the best on your journey through life.
Photo: © Joelle Müller
16.12.2018
We were absolutely overwhelmed how many friends, relatives and guests from the village, near and far found their way to us and celebrated a wonderful Advent aperitif with us. It was an unforgettable evening that we will remember for a long time! Thank you very much to everyone and especially to our employees, who always actively support us in implementing our ideas.
12.12.2018
What a wonderful morning - They enjoyed it a lot!
05.12.2018
Very excited to release our newest video of our Farm and Training Center for Arabian Horses. Many Thanks to Christian Ludwig who realized this project in such a wonderful way!
18.10.2018
Morning workout ... Shayan Ibn Marjan Albidayer (Marjan Albidayer x Shaykhah Bint Aryes) at work ❤️
11.09.2018
We are excited to welcome Al Gruppen at EMAJ Stud in Switzerland for a clinic! It's always a pleasure to work with this great horseman and it's a privilege to learn from good people like him.
Photo: © Merrick Miller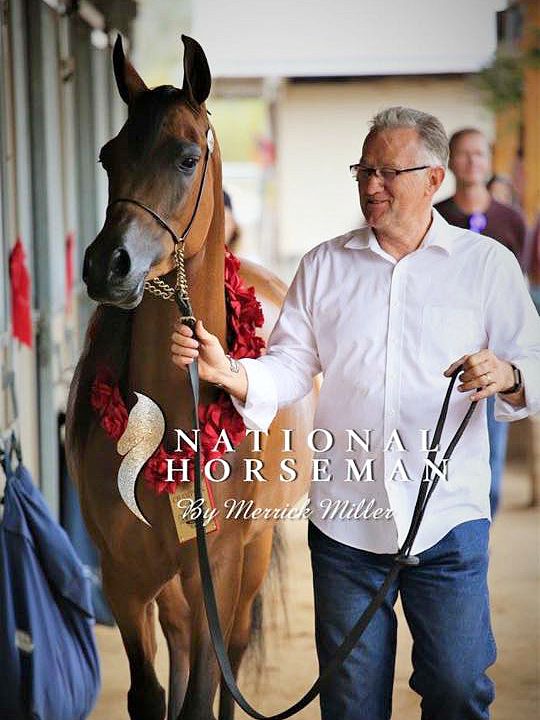 31.08.2018
What a great result for Gwendolin Tschäppeler with "our" Shakeel (Stival x Al Shareefah) Allround Horse competition. As second youngest in the midst of Freibergern and warmbloods, the two have achieved the second place. Fantastic! Congratulations and thanks for the great pictures. For a breeder it is the best to see that with "our" offspring so much is achieved.
27.08.2018
Training Team EMAJ - Dual Activation - On Friday afternoon, all members of the EMAJ team received an introduction to the Dual Activation technique. This stud-internal seminar was conducted by our newest and esteemed team member Katja Kurt-Güntensber. In addition to her work for our stud, she works as a self-employed trainer. The course was super exciting and enriching, even our show stars have worked exemplary.
26.07.2018
A few days ago we received some great pictures from the owner of Muharridh Ibn Al Hadiyah, bred and born in our stud and now owned by Anja Baumgartner. These two are a dream couple and became inseparable friends. We are very happy to have found such a great young lady who takes care of our "protegee".
Photo: © Tilo Brabetz
03.06.2018
We are very pleased about the great results of our girls called the three sisters and about the give aways we got! 😃 Thanks to everybody who made this weekend unforgettable. Our youngster Sitara Bint Hariry (Hariry Al Shaqab x Al Shareefah) got Junior Gold Championesse of the international C-Show. And her sister Shamaliah (Stival x Al Shareefah), the oldest of the three sisters became Senior Gold Championesse of the international C-Show
Photo: © Melanie Groger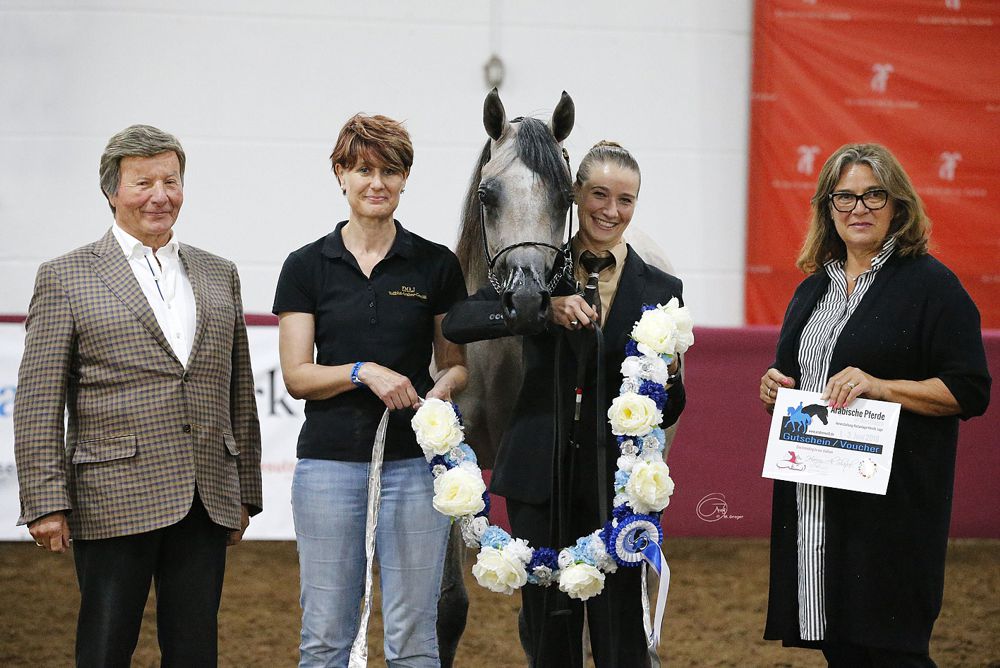 03.06.2018
What a great weekend for us and our three sisters at the Arabian Horse Show in Lage-Hörste. Many thanks to everybody for the nice organisation, the lovely ambience and great company! Sayyidah Bint Al Shareefah (Marajj x Al Shareefah), the second of the three sisters born in 2015, got Junior Silver Championesse of the European C-Show.
Photo: © Melanie Groger
29.05.2018
What a lovely picture. No other picture could show in such a beautiful way, how amazing the Arabian horse is. They stand for a lovely character, a great friend, a family horse, a treasure and many more ...
Photo: © Melanie Groger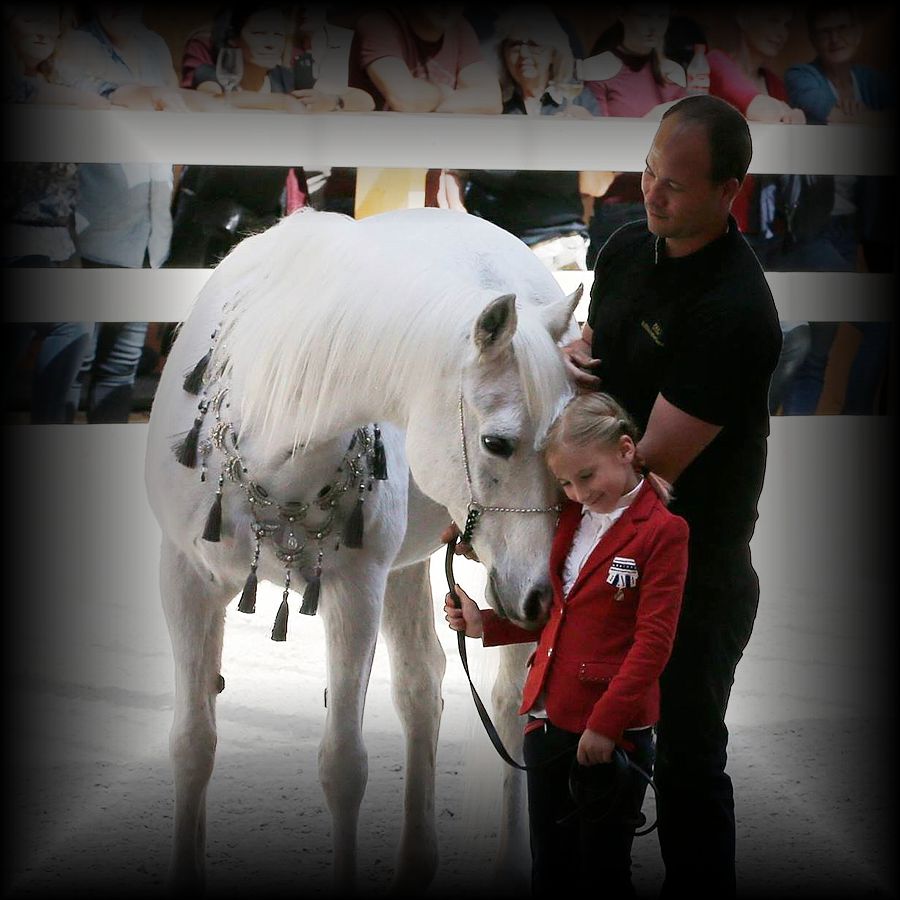 06.05.2018
We had an amazing open day yesterday! We are pleased to share our special day with all the lovely people from the village, all over Switzerland and abroad! We feel honored to welcome around 700 visitors who came to celebrate our opening of the new training center and the Arabian horses! Thank you all it was a perfect day! Yours, the Schläpfer family. And here the link to the Photoalbum on Facebook https://www.facebook.com/media/set/?set=a.1863932667004025&type=1&l=cfade5592c
Photo: © Joelle Müller
04.05.2018
We are busy with the very last preparations for our first open day tomorrow. We are looking forward to welcome you! And while some spend their time with the hair dresser ...
04.05.2018
... others are resting to be ready and on fire for tomorrow 😉
05.04.2018
We are over the moon, announcing our new born filly, Nyagarah out of Norah El Perseus sired by Psytadel ❤️
25.02.2018
The best thing to do after a snowfall ... Freezing cold but sooo beautiful and relaxing!
01.01.2018
We wish everybody a beautiful last day in 2017 and 365 more great days in 2018 - Malika Al Jamaal, Shaykhah Bint Aryes and Michela!