Review of the year
2015
27.11.2015
Congratulations on purchasing this beautiful and brave mare. We wish Khadija (Ajman Moniscione x Khuzama Bint Javier El Jamaal) and her new owner all the best on the common path and enjoy each other!
Photo: © Melanie Groger
03.10.2015
National Show Frauenfeld CH - EMAJ horses celebrate great success! In the best weather conditions, our horses worked excellently in the show ring of this year's Swiss horse show. So the elegant and fleet-footed Nawari El Noor (Emerald J x Norah El Perseus) was the undisputed winner of her class with a fantastic score of 7.6 points and of the title "Best foal bred in Switzerland of the year 2015". A successful presentation also offered Shaykhah Bint Aries (Aryes El Ludjin x Scarlett) and was ranked second in the class of senior mares with a score of 7.5. To make the day absolutely perfect, Shakeel (Stival x Al Shareefah) offered a show that made our and audience's hearts beat faster. With his vigorous and energetic movements, his elegant and complete exterior and the joyful and sympathetic charisma, he took the sympathy of the people. Handler and horse, who have experienced a great season together, radiated pure joy and pleasure in their presentation. With the outstanding score of 7.7 points Shakeel achieved one of the highest scores of the show and the class victory of geldings. An excellent end to a great show season and a fantastic show day! But that was not the end of Shakeel's success story. Just the next day he went through the groundwork course on the sports day of the SZAP. Less than half a year in training and only at the tender age of three, he mastered the course sovereign. Against 23 starters, he was able to worked his way up to 7th place. Just a great guy!
Photo: © Joelle Müller
26.09.2015
Brand new this year, the All Nations Cup in Aachen offered the geldings the chance to put themselves in the spotlight. 32(!) geldings arrived and fought in three classes sorted by age for the gold champion title of the geldings 2015. Also Shakeel started the long journey to compete in the class of the 1-4 year old geldings against an incredibly strong competition. And what a surprise, against ten starters, he was able to prevail and made the jump in the top five placement. A great result for the young and cheeky guy.
Photo: © Melanie Groger
21.08.2015
The last in the league is there. Welcome Scaramelle (Emerald J x Sabaah Il Khayr)! Healthy and cheerful, she saw the light of day, this smart young lady. We look forward to the future together.
01.08.2015
On the first weekend of August, Shakeel (Stival x Al Shareefah), with his breathtaking power, charisma and flying movement, won not only the hearts of audience, but also the title of Liberty Champion of the Kauber Platte Championship, Germany. At the international B-Show in Kaub, he was able to fight for second place in his class against strong competition. Likewise the second place in her class of senior mares was achieved by our Shaykhah Bint Aryes (Aryes El Ludjin x Scarlett).
Photo: © Melanie Groger
25.07.2015
It has not even been really dark outside, there she was already lying in the straw, Nawari El Noor (Emerald J x Norah El Perseus). The little girl is healthy, as well as the mother. We are overjoyed to welcome a new princess in the family of EMAJ. Welcome to the world, little beauty!
23.05.2015
We wish Khuzama Bint Javier el Jamaal (Javier El Jamaal x Kalifah El Gaug) and her new, overjoyed owner all the best on the further common path together. Congratulations to this great mare who has wonderful qualities in breeding and under saddle. Have fun!
Photo: © Melanie Groger
11.05.2015
After two years of youth on the foal pasture, Shakeel Ibn Al Shareefah (Stival x Al Shareefah) returns! He has grown into a strong and handsome young stallion. He will be featured on some shows over the summer before he can start his riding horse career. We are happy to have him back. His witty and cheeky character keeps us busy and we enjoy his honest nature. Welcome back!
Photo: © Melanie Groger
08.05.2015
Finally the time has come, Grace J (Emerald J x Gomera J) travels to her new home in Switzerland. She has survived the transport well and arrived safely at the stud farm. We look forward to an interesting and promising future with this magnificent filly bred by Christine Jamar, Jadem Arabians.
Photo: © Gregor Aymar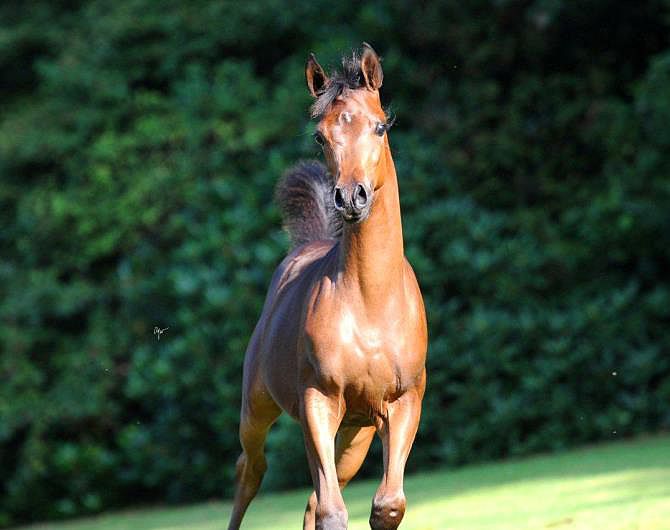 26.03.2015
Our first foal is here! Welcome to the world Sayyidah Bint Al Shareefah (Marajj x Al Shareefah). We are overjoyed and thankfull for this filly. She just sparkles with joie de vivre and her grace and elegance literally cast a spell over us!
15.03.2015
All the best for the future together! We wish Najaam El Perseus (Al Lahab x Norah El Perseus) and his proud new owner all the best on the shared path!
Photo: © Melanie Groger