Review of the year
2017
17.12.2017
Christmas greetings and a small preview of the opening of the new training center and the arabian horse stud EMAJ. EMAJ would like to wish you all a merry festive season and we are looking forward to welcome you soon here in Switzerland. Thank you Christian Ludwig and Sandra Jossi of CL-Video for a great job!
11.10.2017
Not so long ago, we got great pictures from Muharridh Ibn Al Hadiyah and his great owner Anja Baumgartner! The two of them have found each other and we are very happy about the great and deep friendship they've got. These photos were taken during a competition in liberty dressage. The copyrights of the images belong to Sascha Stoll. Thanks for these great pictures, which make us very happy!
Photo: © Sascha Stoll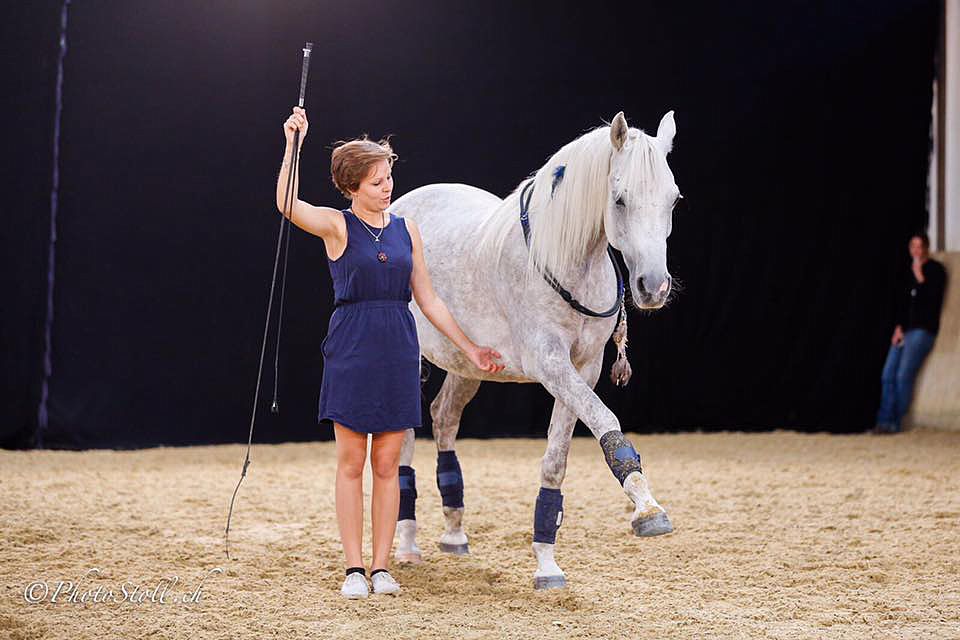 31.08.2017
The only thing you should do in this warm weather ... just a dream couple: Shakeel (Stival x Al Shareefah) and his Gwendolin 😉 Thank you for giving "our" golden boy such a great dream home! 😊
08.08.2017
Grace J (Emerald J x Gomera J) enjoyed herself in the ring 😍 Third place in a strong class and top five in the Championships at the AHO World Cup in Chantilly 2017. She is a great filly and a true treasure for our stud! Thank you Christine Jamar, Jadem Arabians to entrust us with this very special filly ❤️
Photo: © Ricard Cunill
10.07.2017
It was a beautiful weekend in Stroehen with great people and horses. Here a little review of our girls who did an amazing job in the showring! Our "dancing queen" Grace J (Emerald J x Gomera J) got second in the international B-Show with an amazing entry and two times 20 and 19,5 in movements! She gave everything and even more, such a great filly and friend.
Photo: © Melanie Groger
10.07.2017
Third in the European C-Show in Stroehen in a big and strong class was a great result for Nawari El Noor (Emerald J x Norah El Perseus). She liked to show herself from the best side. Our Marajj daughter Sayyidah Bint Al Shareefah (x Al Shareefah) got fourth in the European C-Show with a great presentation as well!
Photo: © Melanie Groger
10.07.2017
Our beloved Shaykhah Bint Aryes (Aryes El Ludjin x Scarlett) had her last show entry in Stroehen. It's always a joy to see this elegant mare even if she doesn't win.
Photo: © Melanie Groger
14.06.2017
Here she is 😍 Shaheerah a beautiful filly out of our great Shamaliah sired by Eternity Ibn Navarrone-D. She keeps her mummy in shape 😉
29.05.2017
Good results for our horses at the international B-Show in Wels / Austria. Nawari El Noor (Emerald J x Norah El Perseus) 4th Place 2 year old fillies section A. Sayyidah Bint Al Shareefah (Marajj x Al Shareefah) 3rd Place 2 year old fillies section B. Grace J (Emerald J x Gomera J) Classwinner 3 year old fillies with the highest points for movements: 3 times 19.5 and one 20! She won the award for "Best Movements" of the international Show. Thank you to all who were supporting us so nicely! Well it was no Champion Title today, but we got "Best Mover" of the Show, which is super great as well.
16.05.2017
Who could not remember this show star and sunny boy? Shakeel (Stival x Al Shareefah) has been with his new and great owner for a year now and proves to be a reliable companion, not just under saddle! His owner has ridden him independently with the help of her riding instructor and seems to be overjoyed with him. A nice example of the fact that successful show stars (Top Five Aachen Gelding and Liberty Champion Kauber Platte) are also great riding and leisure horses with absolutely calm mind! You are a great couple and figurehead for what committed riders can achieve anything. Thanks for the beautiful picture!
29.04.2017
It needed him not even 24 hours to take everybody's heart ❤️ What a beautiful colt, Don Juan by Fadi Al Shaqab out of MZ-Djlshada. He is healthy and strong and realy sweet and something special! So excited for our first foal of this season!
15.04.2017
Finally we have him back home! Shayan Ibn Marjan Albidayer (Marjan Albidayer x Shaykhah). He's healthy and strong and even the vet said, he's completely fine. Thank you Eva Weber for taking such good care.
11.02.2017
Different view on our youngsters and of course our little prince has choosen some good company 😉 from left to right: Shasmin (QR Marc x Shamaliah), Nabucco (QR Marc x Norah El Perseus) and Dayeemah Sweet (Gazal Al Shaqab x MZ-Djlshada)
17.01.2017
Hope you all are enjoying winter as much as we and our horses do.
02.01.2017
We are proud and overjoyed to observe the positive development of Shayan (Marjan Albidayer x Shaykhah Bint Aryes) after his very difficult start in life. Despite the devastating words of the dentists that he probably will not survive the foal pasture, he has developed into a handsome young gelding. And not enough, in equestrian education, he works wonderful without noticeable deficits! Like his parents, he promises to be a great companion under saddle as well as in handling with a character of gold! Miracles happen, you just have to believe it! Many thanks to Eva Weber, who is doing a fantastic job with him!
01.01.2017
Best way to start the new year! Our beautiful Shaykhah Bint Aryes (Aryes El Ludjin x Scarlett)