Nashanji Al Shabanu
for sale
Invictus x Norah El Perseus
Purebred Arabian Gelding
Dob: 09.06.2019
Color: grey
Breeder: EMAJ Stud, E.M.CH. Schlaepfer

Nashanji is a strong, robust and very elegant gelding with a loving and curious mind. He spent the last two and a half years in the herd association on the foal pasture and was able to enjoy his youth without worries and stress, with the best social environment. Nashanji is a very promising future riding horse who was allowed to grow up healthy. Like his brother Nabucco, he will be a large-framed horse with strong movements.
Invictus
Cavalli
DA Valentino
Versace
DA Love
Aspyn
Padrons Psyche
RS Ashley
Althea
Ajman Moniscione
WH Justice
Anthea Moniscione
Naama Della Vigna
Alaa Al Din
Raissa della Vigna
Norah El Perseus
Perseus El Jamaal
Ali Jamaal
Ruminaja Ali
Heritage Memory
Perfectshan SRA
Bey Shah
Lady Tanzeer
Niharra El Jamaal
Ali Jamaal
Ruminaja Ali
Heritage Memory
Naharra
El Shaklan

Elite Stallion

Niharra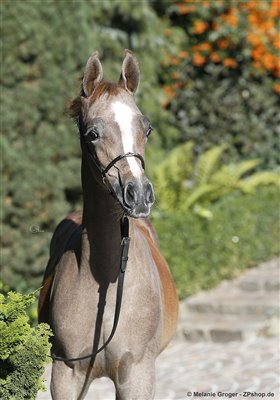 Fotos: © M.Groger